Many of the discussions about stabilizing involve dissipating energy in the rig. I got to thinking how this could be put to good use. So here is a rig that I made that uses the energy from swings of the pendulum that occur along the kite line. It translates that energy into small rotations, in the manner of an auto-KAP rig. The device walks around over the course of a few minutes, or it can be deliberately rocked back and forth to re-orient by pulling back and forth on the kite line. This works better than you'd think.
Here's the device.
For rotation, no servos, no electronic position control, no rubberbands or silly putty or batteries or propellers or programming skills required. It doesn't do tilt though, only pan. (Hmm.....)
It's 3d printed. You can buy it here (there are more pictures too) in case anyone would like to play with it:
http://www.shapeways.com/shops/hobbiestoomany
Here's a video with music done by me. It includes the tune to a nursery rhyme that seemed appropriate at the time (kinda late last night).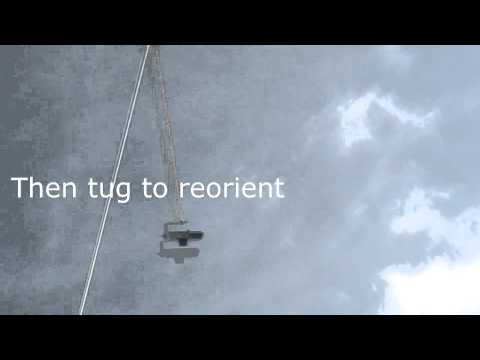 I'm charging a small markup ($5) in the hopes of breaking even on my prototypes.
Anyone seen a rig like this before?
The pendulum rod is made from a threaded nylon rod. This is not ideal since it is bendy and springy. I've been thinking about using a carbon tube instead but the rod was easier to get for now. I'm open to suggestions.
I've included recommendations by sparrowscope concerning UV and inspecting for cracks. It doesn't have filleting that he's recommending though.
The tricky part is that you have to estimate the line angle and lock it in before you send the rig up. You can just let it hang on the line before locking it down. But if the line angle changes drastically, the rig won't turn. If the wind is really messy, the rig can turn too fast and not have time to get good shots. But I think that kind of wind would also not yield sharp shots anyway. I haven't flown with a very high angle kite like my delta yet. There's a limit to the line angle that this rig can handle before it would need a different hanger, which would be easy to make. I had no problem with my Rok, and I think the levitation delta would be ok too, especially with a tail.
I've only had one field session with it so far, so it's still young but I was so excited by how well it worked that I wanted to get the idea out there. I was also surprised how fun it was to control.
Do you pendulum users use tugs on the line to help get the pendulum to stop swinging? It seems like this works to some degree.
The mechanism seems plenty sturdy for my S95, but a heavier camera would need a sturdier one. I'd be willing to scale it but Shapeways charges by volume so the price goes up as the cube of the scale factor! Maybe you have access to a 3d printer. Another idea is that the teeth on the toothed ring reminds me of a hole saw; it's conceivable that this type of rig could be done with one of those too.
One thing that I don't like is how inconvenient a pendulum is to pack, compared to a Picavet. I wonder if anyone has used folding or telescoping or easy disassembling ones. I've been eyeing my umbrella but it's a nice one that I don't want to repurpose yet.