SkyShield autoKAP controller
A couple of folks involved with Public Lab have been working on a simple autoKAP controller based on the Arduino Nano. We now have a device that works great and we are ready to find out whether it might be useful to others. We designed a custom PCB which is a shield for the Nano and allows easy connection of up to four servos and two cameras. The circuit design is open source and freely available.
Our emphasis has been on operating Canon PowerShots running CHDK, so the current sketch just sends a 5v pulse that CHDK can detect to trigger the shutter. The "SkyShield" controller leverages the programmability of the Arduino, so the sketch can be easily modified to trigger other types of cameras or drive the servos differently.
I also designed a pan/tilt KAP rig for testing the SkyShield. This is the Saturn V Rig, a small 3D printed rig scaled for PowerShots. This design is also open source and is freely available on Thingiverse. I have had some success flying the rig in Vermont and Alaska this summer and produced some almost spherical aerial panoramas:
http://publiclab.org/tag/half-spherical
.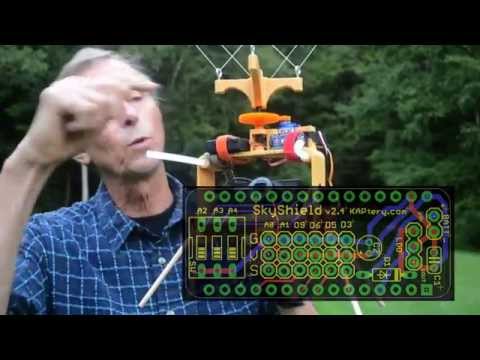 Details about the rig and controller are at the following links.
SkyShield circuit design (open in Eagle CAD):
http://kaptery.com/files/documents/skyshieldv2.4.brd
SkyShield user manual:
http://kaptery.com/files/documents/skyshield-manual.pdf
Saturn V Rig 3D printing files:
http://www.thingiverse.com/thing:845522
More details (assembly instructions, Arduino sketch, parts list):
http://kaptery.com/guides/
Flickr album:
https://www.flickr.com/gp/chrisfastie/LEb736
I have stockpiled all the parts needed to assemble several SkyShields and Saturn V Rigs and have kits and some assembled units available at the KAPtery
http://kaptery.com/products/?f=category&id=21
.
This is the public release of the SkyShield and Saturn V Rig. Our goal is to offer inexpensive kits for building simple but useful tools for aerial photography. We are still developing both designs and are eager to hear suggestions for modifications.
Thanks,
Chris