Lost at Sea….Again….
A sudden lost…hits you hard….
Without any warning….my kite line parted….
One of my favorite kites the Levitation Lite delta kite fitted with a Dynamic Spreader faithfully continued to fly….dragging my dual camera KAP rig fitted out with my Sony A6000 and GoPro Hero3 camera out over the Gulf of Mexico….skipping across every 10th wave or so…as it headed out to sea…
I lost everything…
A sad day. I have had other sad days such as this… read "Lost at Sea" story here on a similar incident over the Atlantic Ocean….
http://research-benton.ced.berkeley.edu/discuss2//index.php?p=/discussion/4706/lost-at-sea
I was on the beach of Fr. De Soto in early March facing Tampa Bay and the Gulf of Mexico….. The purpose of my visit was to participate in the WaterTribe Everglades Challenge 2020 which is a 300 mile adventure kayak / small sail boat race from Ft. De Soto / Tampa Bay to Key Largo (Florida Keys).
The Levitation Lite delta kite, KAP rig and Stratospool were working perfectly flying about 200 feet above the beach taking pictures from above of about 200 sailboats and kayaks that were pulled up on the beach for inspection the day before the race. I was taking my time and inspecting each sailboat and kayak. I was informally filming the boats with my hand held Go Pro Hero 7 black shoot 4 K video.
Walking between the sailboats with masts sticking up high above I had to carefully weave between the masts and spreaders with one hand holding the Hero 7 camera and the other loosely holding the Stratospool or letting it dangle from the waist strap. This approach was working fine….at least I thought it was…..
As I walked between two sailboats….my line suddenly parted….with the Levitation Lite delta kite pulling my KAP rig across the Gulf of Mexico. The KAP rig and kite slowly dropped in altitude till the KAP rig hit the waves….but the delta kite kept flying pulling the KAP rig back into the air only to fall back again about 10 seconds later. This pattern repeated numerous times as the kite continued to fly off across the Gulf of Mexico till the kite was out of site……
The whole affair was captured on my Hero 7 camera that was rolling as I walked along the beach before, during and after the line parted….. The moment of separation is at 37:40 in this YouTube video (note main subject of the video is my sailing kayak and various repairs and not KAP but you do get a few glimpse of my plight). If the YouTube video does not launch for you, right click, copy url to your web browser.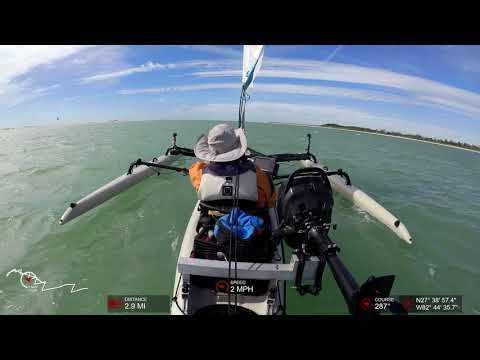 I contemplated chasing down the kite in my kayak but it would take too long to launch the kayak (it was actually on a trailer attached to my car and I was not certain the speed of the kayak could catch up with the fast moving kite.
So…how did this happen with new line and a freshly built Stratospool? I spent a few days studying the evidence (video, line, Stratospool)…. Based on where the line was cut I have concluded the kite line found a sharp edge on the stainless steel rectangular tube that I use on the "Nose" part of the Stratospool. This was not the only factor but it is the most probable root cause.
Other contributing factors included that I was not holding my Stratospool in the normal position which enabled the kite line to reach un expected sharp edges. A third contributing factor was the quality of the kite line. The line was brand new 8 Strand Braided dyneema Fishing Line 150 lbs. …. So I thought…. I have done some preliminary testing that indicates this line breaks well below 150 lbs…. closer to 50 lbs….. I have had good experience with Dyneema kite line….but this batch is suspect. A check on-line showed other reviewers had similar feedback….
https://www.amazon.com/product-reviews/B075V2SV3S/ref=acr_dpx_hist_1?ie=UTF8&filterByStar=one_star&reviewerType=all_reviews#reviews-filter-bar
So – all three factors (sharp edge on the Stratospool, holding the Stratospool in a not normal position that enabled the line to reach the sharp edge and weaker defective line) contributed to this failure.
Losses at Sea:
- Bit of pride
- One well used (400+ flight) Levitation Lite delta kite fitted with a Dynamic Spreader
- One well used BBKK Auto KAP rig – well over 1000 flights
- One CAMremote-2 controller
- One Gentles IR trigger (for Sony A6000)
- One Sony A6000 camera …. taking pictures as it drifted away
- One GoPro Hero 3 black camera….taking pictures as it drifted away
- About $1300 worth of kite, camera and KAP gear lost.
Looking ahead – I have initiated the replacing of the lost equipment
- New kite…. Levitation delta fitted with a Dynamic Spread (just received 3 new Dynamic Spreaders from Mike LeDuc!)
- Replacement KAP rig….. Auto KAP….placed order and I have received replacement parts to start the build of a new KAP rig from Ken Conrad (Brooxes.com)
- Replacement CAMremote from VP Systems
- Replacement cameras….. I have a backup Sony A6000 and I am planning on using my existing Hero 5 and Hero 7 for KAP duty
- The small stuff – new IR trigger….
- Switch to spare Stratospool with proven kite line.
- The big stuff – convincing my wife to spend (invest) in some new gear
Short term – I have reverted to my emergency KAP gear….Hero 7 on a string! With good results.
Lessons learned….many…..Check for hidden sharp edges that put kite line at risk with your KAP gear. Avoid using KAP gear in risky ways (improper holding of the Stratospool) and do actual testing of your kite line to confirm strength and abrasion resistance. Risks we take. I have lost cameras, kites, rigs in the past…tough to repeat this complete lost again…with no recovery of any gear.
I invite my fellow KAPer's to comment on the above….. and to recommend some replacement gear:
- KAP cameras
- KAP rigs
- Kites
Feeling the pain….but thankful that the KAP rig and camera survived many KAP flights over approximately 6 years!
WW